Inventory
2023 Kawasaki NINJA® ZX™-10RR
2023 Kawasaki NINJA® ZX™-10RR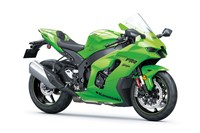 Specifications
POWER
Engine
4-stroke, In-Line Four, DOHC, 16-valve, liquid-cooled
Bore x Stroke
76.0 x 55.0mm
Fuel System
DFI® w/47mm Mikuni throttle bodies (4) with oval sub-throttles, two injectors per cylinder
Ignition
TCBI with digital advance and Sport-Kawasaki Traction Control (S-KTRC)
Transmission
6-speed, return shift
Electronic Rider Aids
Electronic Cruise Control, Kawasaki Launch Control Mode (KLCM), Kawasaki Intelligent anti-lock Brake System (KIBS), Kawasaki Sport TRaction Control (S-KTRC), Kawasaki Engine Braking Control, Kawasaki Quick Shifter (KQS) (upshift & downshift), Kawasaki Corner Management Function (KCMF)
PERFORMANCE
Front Suspension / Wheel Travel
43mm inverted Balance Free Fork, adjustable stepless rebound and compression damping, spring preload adjustability/4.7 in
Rear Suspension / Wheel Travel
Horizontal back-link with Balance Free gas-charged shock, stepless, dual-range (low-/high-speed) compression damping, stepless rebound damping, fully adjustable spring preload/4.5 in
Front Brakes
Intelligent Braking (KIBS), Brembo® dual semi-floating 330mm discs with dual radial mounted monobloc 4-piston calipers
Rear Brakes
KIBS-supported, single 220mm disc with aluminum single-piston caliper
DETAILS
Frame Type
Aluminum perimeter
Warranty
12 Month Limited Warranty
Kawasaki Protection Plus™ (optional)
12, 24, 36 or 48 months
Features
TECHNOLOGY
Using high-precision electronic control for engine management, Kawasaki models can achieve a high level of fuel efficiency. However, fuel consumption is greatly affected by throttle use, gear selection, and other elements under the rider's control. The Economical Riding Indicator is a function that indicates when current riding conditions are consuming a low amount of fuel. The system continuously monitors fuel consumption, regardless of vehicle speed, engine speed, throttle position and other riding conditions. When fuel consumption is low for a given speed (i.e. fuel efficiency is high), an "ECO" mark appears on the instrument panel's LCD screen. By riding so that the "ECO" mark remains on, fuel consumption can be reduced. While effective vehicle speed and engine speed may vary by model, paying attention to conditions that cause the "ECO" mark to appear can help riders improve their fuel efficiency – a handy way to increase cruising range. Further, keeping fuel consumption low also helps minimize negative impact on the environment.
Kawasaki's fully electronic throttle actuation system enables the ECU to control the volume of both the fuel (via fuel injectors) and the air (via throttle valves) delivered to the engine. Ideal fuel injection and throttle valve position results in smooth, natural engine response and the ideal engine output. The system also makes a significant contribution to reduced emissions. Electronic throttle valves also enable more precise control of electronic engine management systems like S-KTRC and KTRC, and allow the implementation of electronic systems like KLCM, Kawasaki Engine Brake Control, and Electronic Cruise Control.
The Kawasaki Engine Brake Control system allows riders to select the amount of engine braking they prefer. When the system is activated, the engine braking effect is reduced, providing less interference when riding on the track.
Designed to assist riders by optimizing acceleration from a stop, KLCM electronically manages engine output to minimize wheel spin when moving off. With the clutch lever pulled in and the system activated, engine speed is limited to a determined speed while the rider holds the throttle open. Once the rider releases the clutch lever to engage the clutch, engine speed is allowed to increase, but power is regulated to minimize wheel spin and help keep the front wheel on the ground. The system disengages automatically once a predetermined speed has been reached, or when the rider shifts into third gear. Depending on the model, riders can choose from multiple modes, each offering a progressively greater level of intrusion.
Using the latest evolution of Kawasaki's advanced modeling software and feedback from a compact IMU (Inertial Measurement Unit) that gives an even clearer real-time picture of chassis orientation, KCMF monitors engine and chassis parameters throughout the corner – from entry, through the apex, to corner exit – modulating brake force and engine power to facilitate smooth transition from acceleration to braking and back again, and to assist riders in tracing their intended line through the corner. The systems that KCMF oversees vary by model, but may include: • S-KTRC/KTRC (including traction management and wheel lift management) • KLCM (including traction management and wheel lift management) - Designed to optimize acceleration from a stop • KIBS (including pitching management and corner braking management) • Kawasaki Engine Brake Control
Models equipped with multiple Power Modes offer riders an easily selectable choice of engine power delivery to suit riding conditions or preference. In addition to Full Power mode, one (Low) or two (Middle, Low) alternate mode(s) in which maximum power is limited and throttle response is milder are provided.
S-KTRC, Kawasaki's original predictive traction control, uses the same base technology as Kawasaki works machines. Designed to maximize acceleration, it allows riding at the edge of traction on the track. This technology continually controls the rear wheel slip that occurs when power is applied, ensuring optimal acceleration. In general, maximum forward drive requires a certain amount of slip. To ensure the most effective transfer of power to the tarmac, S-KTRC monitors the slip ratio in real time, and governs engine power delivery to optimize rear wheel traction. S-KTRC monitors a number of parameters, including front and rear wheel speed (slip), engine rpm, throttle position and acceleration. Conditions are confirmed every five milliseconds, at which time the system looks at each of the parameters as well has how much they are changing (i.e. their rate of change). This unique Kawasaki method makes it possible to make interpolations and precisely calibrate engine output to suit traction conditions. By acting before slippage exceeds the limits of traction, drops in power can be minimized, resulting in ultra-smooth operation. Because the sophisticated software bases its dynamic analysis on the chassis' orientation relative to the track surface (rather than relative to a horizontal plane), it is able to take into account corner camber, gradient, etc., and adapt accordingly. It also automatically adjusts for tire wear, different tire profiles, high-grip tires, and numerous other factors that setting-type systems treat as fixed parameters. Models equipped with IMU incorporate chassis-orientation feedback to offer even more precise management.
Designed to help riders maximize their acceleration on the track by enabling clutchless upshifts with the throttle fully open, KQS detects that the shift lever has been actuated and sends a signal to the ECU to cut ignition so that the next gear can be engaged without having to use the clutch. On models that offer clutchless downshifts, during deceleration the system automatically controls engine speed so that the next lower gear can be selected without operating the clutch.
Electronic Cruise Control allows a desired speed (engine rpm) to be maintained with the simple press of a button. Once activated, the rider does not have to constantly apply the throttle. This reduces stress on the right hand when traveling long distances, enabling relaxed cruising and contributing to a high level of riding comfort.
Clever technology enables riders to connect to their motorcycle wirelessly. Using the smartphone application "RIDEOLOGY THE APP," a number of instrument functions can be accessed, contributing to an enhanced motorcycling experience. Vehicle information (such as the odometer, fuel gauge, maintenance schedule, etc) can be viewed on the smartphone. Riding logs (varies by model, but may include GPS route, gear position, rpm, and other information) can be viewed on the smartphone. When connected, telephone (call, mail) notices are displayed on the instrument panel. Riders can also make changes to their motorcycle's instrument display settings (preferred units, clock and date setting, etc) via the smartphone. And on certain models, it is even possible to check and adjust vehicle settings (such as Rider Mode, electronic rider support features, and payload settings) using the smartphone.
Kawasaki ABS systems use front and rear wheel sensors to constantly monitor wheel speed. Should information from either of the sensors indicate that wheel lock has occurred, the ABS ECU directs the pump in the ABS unit to modulate brake fluid pressure (releasing and reapplying pressure so that traction can be regained) until normal operation resumes. ABS offers rider reassurance that contributes to greater riding enjoyment.
Compared to the Kawasaki traditional Uni-Trak® rear suspension, which mounts the shock unit vertically, with Horizontal Back-link Rear Suspension, the shock unit is almost horizontal. The original Kawasaki suspension arrangement locates the shock unit very close to the bike's center of gravity, greatly contributing to mass centralization. And because there is no linkage or shock unit protruding beneath the swingarm, this frees up space for a larger exhaust pre-chamber (an exhaust expansion chamber situated just upstream of the silencer). With a larger pre-chamber, silencer volume can be reduced, and heavy exhaust components can be concentrated closer to the center of the bike, further contributing to mass centralization. The result is greatly improved handling. A secondary benefit is that the shock unit is placed far away from exhaust heat. Because it is more difficult for heat from the exhaust system to adversely affect suspension oil and gas pressure, suspension performance is more consistent.
The strength of Kawasaki's cutting-edge electronics has always been the highly sophisticated programming that, using minimal hardware, gives the ECU an accurate real-time picture of what the chassis is doing. Kawasaki's proprietary dynamic modeling program makes skillful use of the magic formula tire model as it examines changes in multiple parameters, enabling it to take into account changing road and tire conditions. The addition of an IMU (Inertial Measurement Unit) enables inertia along 6 DOF (degrees of freedom) to be monitored. Acceleration along longitudinal, transverse and vertical axes, plus roll rate and pitch rate are measured. The yaw rate is calculated by the ECU using Kawasaki original software. This additional feedback contributes to an even clearer real-time picture of chassis orientation, enabling even more precise management for control at the limit. With the addition of the IMU and the latest evolution of Kawasaki's advanced modeling software, Kawasaki's electronic engine and chassis management technology takes the step to the next level – changing from setting-type and reaction-type systems to feedback-type systems – to deliver even greater levels of riding excitement.
Kawasaki developed KIBS to take into account the particular handling characteristics of supersport motorcycles, ensuring highly efficient braking with minimal intrusion during sport riding. It is the first mass-production brake system to link the ABS ECU (Electronic Control Unit) and engine ECU. In addition to front and rear wheel speed, KIBS monitors front brake caliper hydraulic pressure, throttle position, engine speed, clutch actuation and gear position. This diverse information is analyzed to determine the ideal front brake hydraulic pressure. Through precise control, hydraulic pressure is modulated in much smaller increments than with standard ABS systems. The system limits rear wheel lift under heavy braking and takes downshifting into account while braking, allowing the rider to manage the rear brake. And because of the finer control, kickback to the brake lever is minimal, resulting in a very natural feeling.
All inventory listed is subject to availability and prior sale. Manufacturer's Suggested Retail Price (MSRP) if shown for a vehicle excludes set-up, freight, taxes, title, licensing or other dealer charges, and is subject to change. Individual prices may vary. Please request a quote for specific pricing.